In the town of Sourwater, nobody dies, something has changed and only one Gunslinger knows why.
Roland has given up everything for the woman he loves, even betraying his friend, but now he's lost her too. He's willing to do whatever it takes to save her, no matter the cost.
But for the mysterious strangers that circle, the events of Sourwater, are just
The Game They Play.
---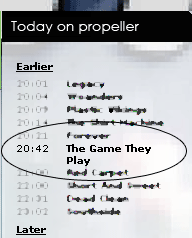 The Game They Play on Satellite!
Propeller TV will be broadcasting The Game They Play on SKY Channel 195 as a part of the next 5 week schedule, beginning on Friday 24th August, at 20.21.
More Information on propeller.tv
---
Autumn Film Festival
The Game They Play has been shortlisted for the "Foglia d'Argento 2006" (Silver Leaf 2006) at the
Autumn Film Festival in Verona, Italy. (23-28 Oct 2006)
---
imdb!
The film has been inserted in imdb.com

Click on this link to see the related page

Everyone who took part in the project had his profile created or linked.
---
Reggio Film Festival
The film has been selected and screened recently at the
Reggio Film Festival in Italy (17-21 May 2006).
From Cinemavvenire.it (reviewing the festival):
"The biggest surprises of the festival can be found in the open category and in titles like: [...] The Game They Play, Olaf Olgiati's unusual british western"
"Le sorprese principali del festival di Reggio Emilia sono racchiuse soprattutto nella sezione Open Category e in titoli come: [...] The Game They Play di Olaf Olgiati, atipico western di produzione britannica"
---
DVD Party
Some pictures from the DVD party, at the Waxy O'Connors, London:

Thanks to everyone who attended!
---
DVD released!
The dvd of "The Game They Play" has been released.

DVD Features:
Language: English
Subtitles: English and Italian
"Making of" Featurette with cast/crew interviews (30 mins)
Animated storyboard
Photo Gallery
Edition details: